💭 We only have one skin, pamper it!
Anti-aging aftershave - EXTRA SHAVE - 75mL
First aftershave with anti-aging effects
Strong healing effect on micro-cuts
Vegan formula with 98% natural ingredients
Paraben and silicone free
👩‍🔬💬 | I had a dream, to offer you the best aftershave balm in the world, with real repairing and anti-aging virtues, coupled with immediate comfort. This dream was called: Extra-Shave!
Livré chez vous sous 48h !
Splash your face with cool water to firm up the skin and tighten the pores. Dry your face with a clean towel (reserved for shaving). Apply the balm to your skin. Neither greasy nor sticky = quick absorption. If it stings a little, its regeneration powers are at work!
Yes, it's the start of a beautiful day!

P.S : si vous souhaitez approfondir le sujet, découvrez gratuitement nos incroyables cours de soin !
Did you know that when you shave, the blades remove hair and dead skin? This natural peeling action cleanses and revitalizes the epidermis, but it can also be irritating. That's why Monsieur BARBIER has developed an aftershave with a triple soothing action that amplifies the rejuvenating benefits of shaving.

With EXTRA SHAVE, you'll look like new every time you shave!
Its formula with grape seed oil and macadamia calms razor burns, its RGNA activator from 15 years of French university research completely regenerates the skin, and hyaluronic acid completes the care with hydration and an anti-aging soothing effect. 98% of ingredients are of natural origin, all the rest from advanced research in active dermatology. No parabens, no silicone, and no animal derivatives. Cruelty-free: Certified by One Voice.
Aqua (water), Helianthus annuus (sunflower) seed oil, Glycerin, Sodium polyacrylate, Macadamia ternifolia seed oil, Vitis vinifera (grape) seed oil, Sodium hyaluronate, Sodium Carboxymethyl Dextran Acetate Sulfate, Pentylene glycol, Tocopherol, Parfum (fragrance), Ethylhexylglycerin, Decylene glycol, Squalene, Caprylyl glycol, Beta-sitosterol

Retrouvez tous nos ingrédients dans notre "🌱Glossaire" !
View full details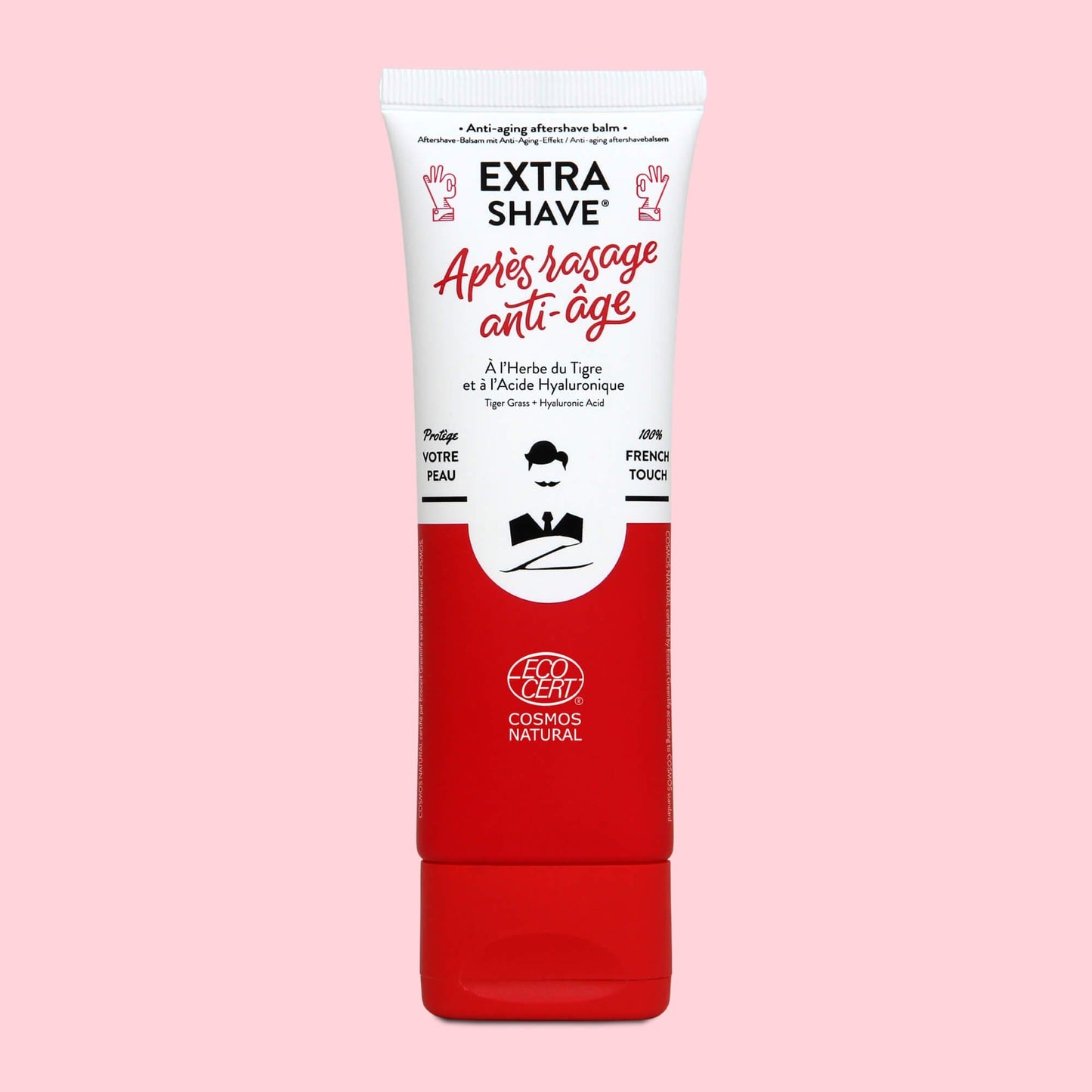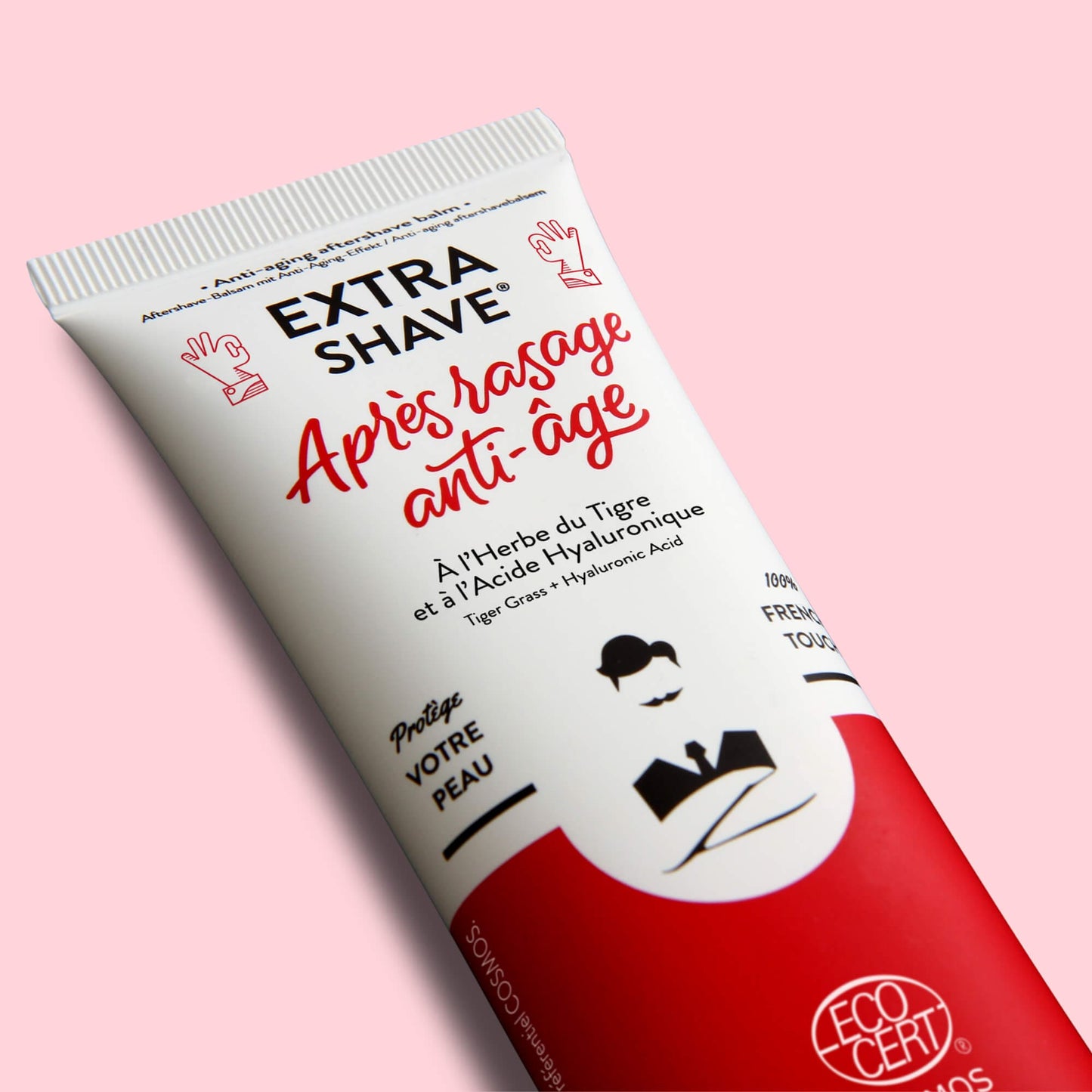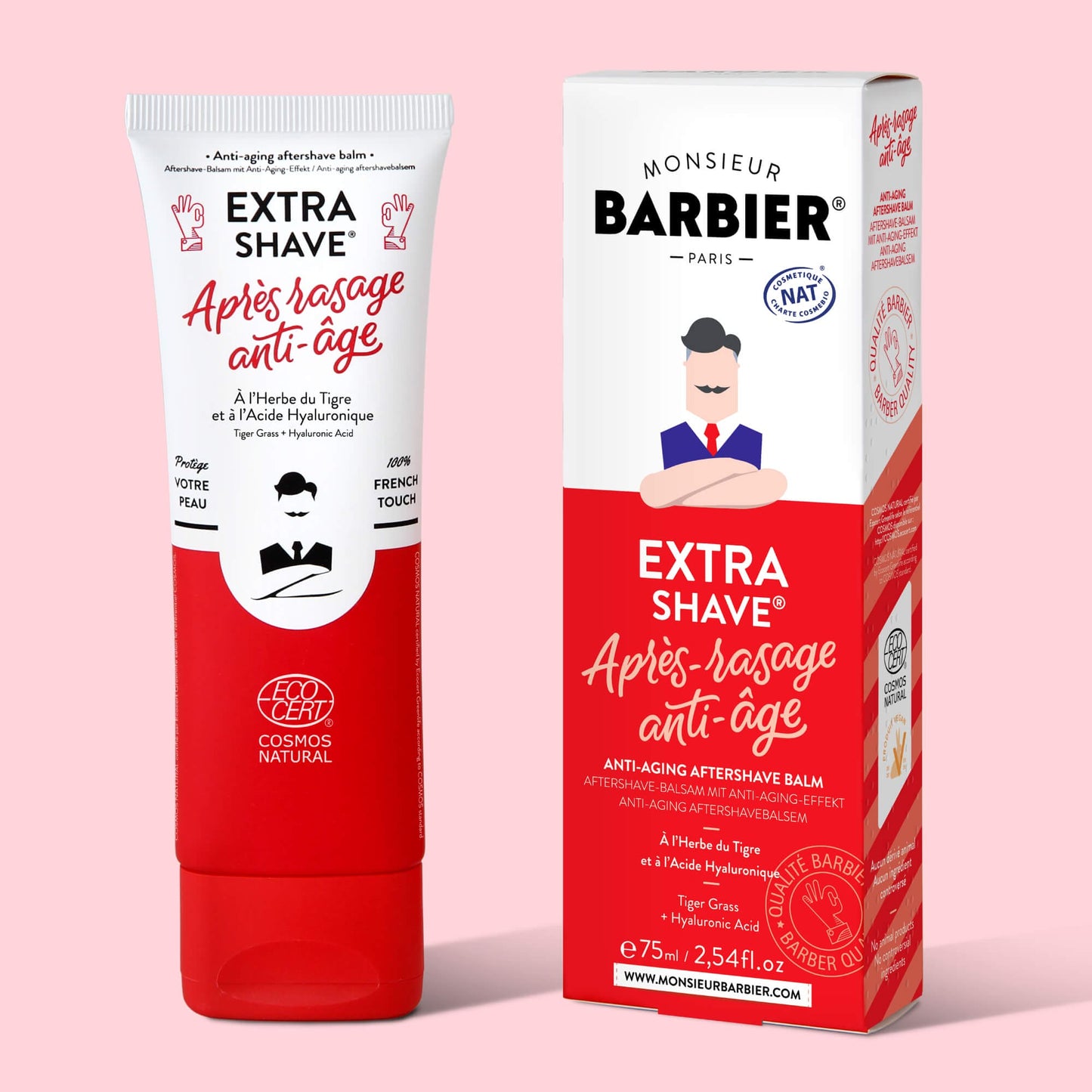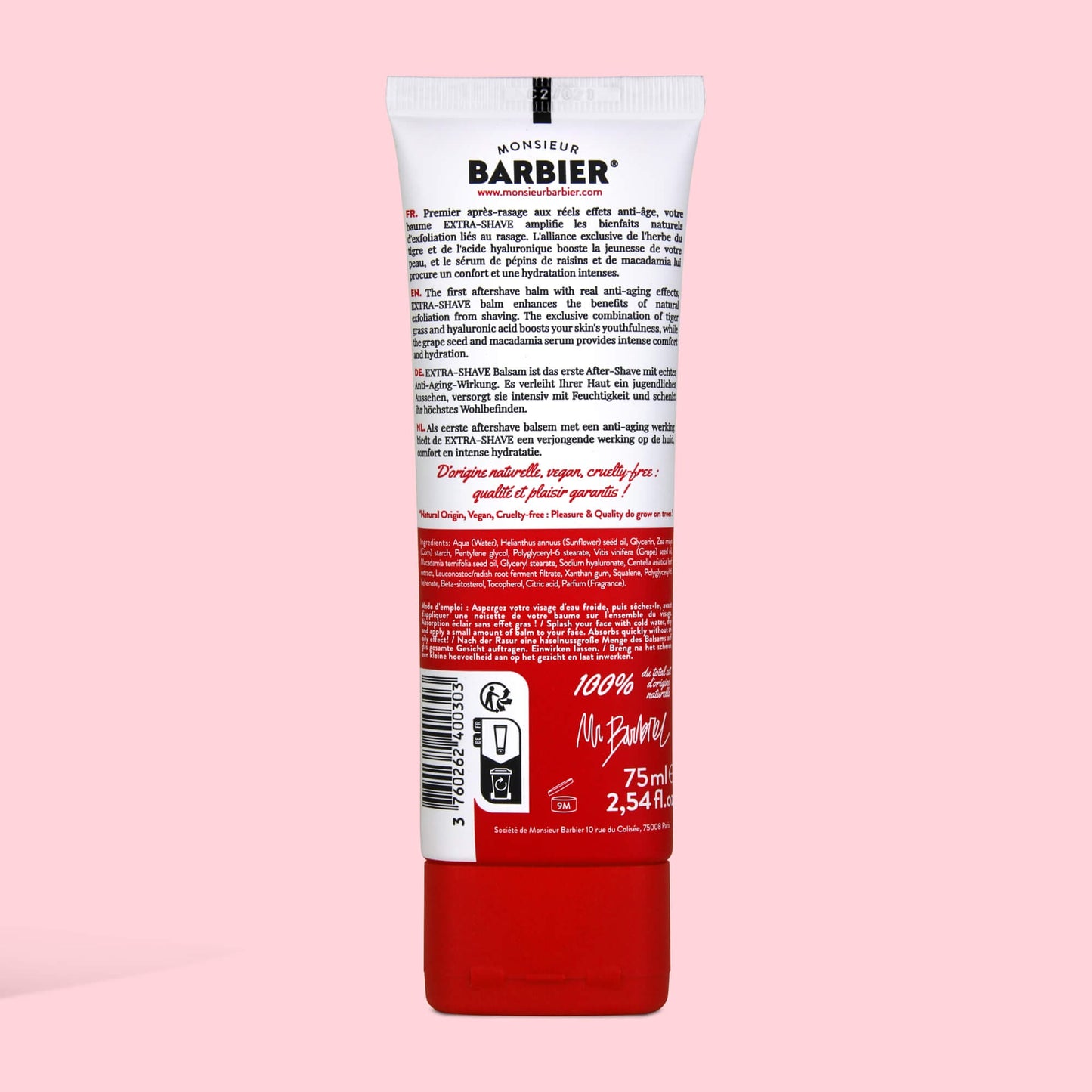 Anti-aging aftershave - EXTRA SHAVE - 75mL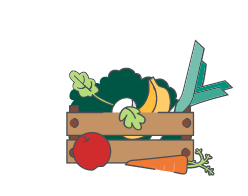 NATUREL & CERTIFIÉ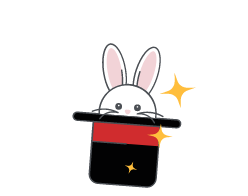 CRUETY-FREE & VEGAN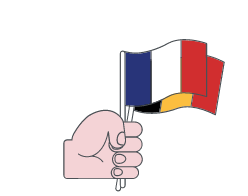 MADE IN FRANCE & BELGIUM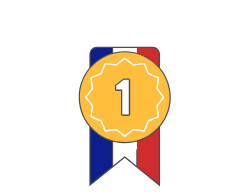 RECONNU & RÉCOMPENSÉ !
"The first aftershave with real anti-aging effects, your EXTRA-SHAVE balm amplifies the natural exfoliating benefits of shaving. RGNA© (ReGeNerating Agents) and hyaluronic acid accelerate your skin's regeneration, and grape seed and macadamia serum provide intense comfort and moisture."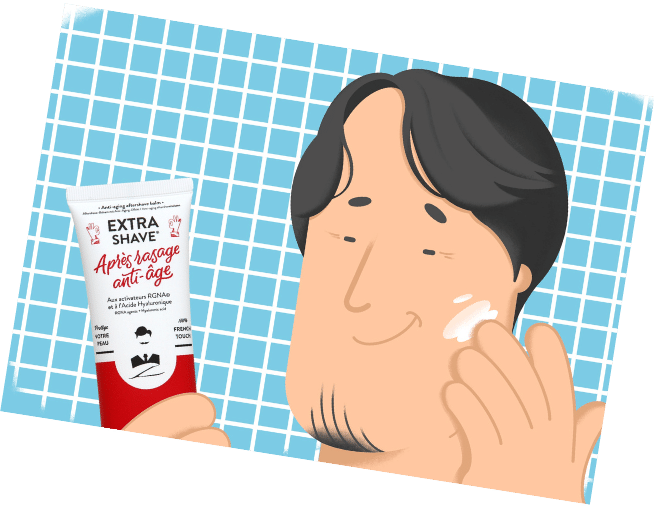 ANTI-AGING: FOR ME?
The best time to apply an anti-aging serum is right after shaving, as it purifies the epidermis of all dead skin. So take advantage of every shave to give yourself a facial!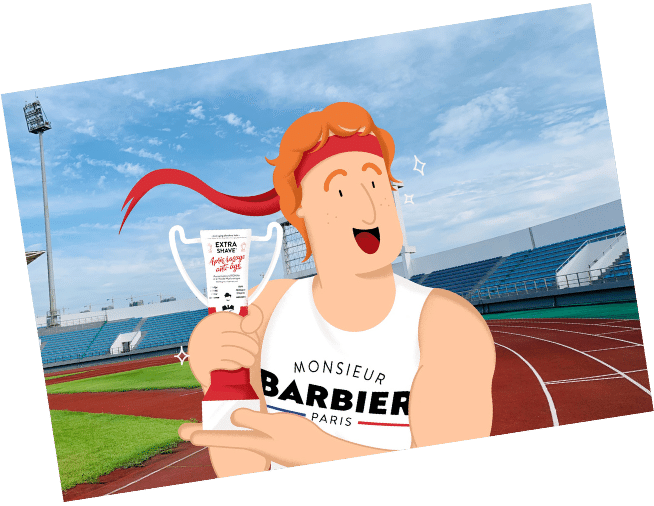 NEW SKIN!
Result of 15 years of French university research, RGNA activators accelerate cell regeneration to instantly heal irritations and micro-cuts.
après-rasage
bon produit mais un peu plus fluide qu'avant
Efficace, bon produit
Bon rapport qualité prix pour un usage quotidien et pas uniquement après rasage.
il manque juste pour moi un petit parfum frais ou boisé car l'odeur neutre (qui disparait ensuite) n'est pas forcément très agréable à l'application.
Superbe
Excellent rapport qualité prix, produit agréable sur le visage et senteur discrète
Bon produit qui apaise le rasage. dommage qu'il n a plu cette petite odeur boisée.
Néanmoins crème agréable qui pénètre facilement et laisse la peau douce.
après rasage
très bon produit facile à utiliser