💭 A black diamont in the raw
Lipid-enriched face & body soap - COAL OF BEAUTY - 100gr
Purifies and detoxifies the skin in-depth
7% lipid-enriched soap for a moisturized and soothed skin
With 99.9% of ingredients of natural origin
Can be used as a cleanser of as a face mask
👩‍🔬💬 | There's nothing like a little coal to make you look good!
Livré chez vous sous 48h !
In the shower, rub your soap under warm water to bring out its creamy lather, then simply wash! You can also use the COAL OF BEAUTY soap as a purifying mask. To do so, apply its lather directly to your face, then leave it on for a few minutes before rinsing. Do not hesitate to repeat this two or three times a week if necessary. Arrivederci oily skin!

P.S : si vous souhaitez approfondir le sujet, découvrez gratuitement nos incroyables cours de soin !
It is necessary to save the skin from problems! Thanks to its natural charcoal, the COAL OF BEAUTY lipid-enriched soap absorbs excess sebum, bacteria, and other impurities responsible for infections and pimples. A real boost for oily skin! Finally, its creamy and generous foam, perfumed with palmarosa, will delight your senses, every morning!
The charcoal in your COAL OF BEAUTY soap is the best ally for flawed skin. Very effective against pollution particles, bacteria, and impurities responsible for rednesses and pimples, it guarantees a clean face every time you use it. The coconut and jojoba oils offer you a creamy and generous foam, ideal for a face mask. Finally, the Palmarosa brings this small olfactory supplement, that will warm your senses, every morning.

* 99.9% of ingredients of natural origin
* 7% lipid-enriched
* 5% glycerin
Sodium olivate, Sodium cocoate, Aqua (water), Glycerin, Simmondsia chinensis seed oil, Bamboo charcoal, Cymbopogon martini oil, Sodium chloride, Tetrasodium glutamate diacetate, Geraniol, Linalol, Citral, Farnesol, Limonene.

Retrouvez tous nos ingrédients dans notre "🌱Glossaire" !
View full details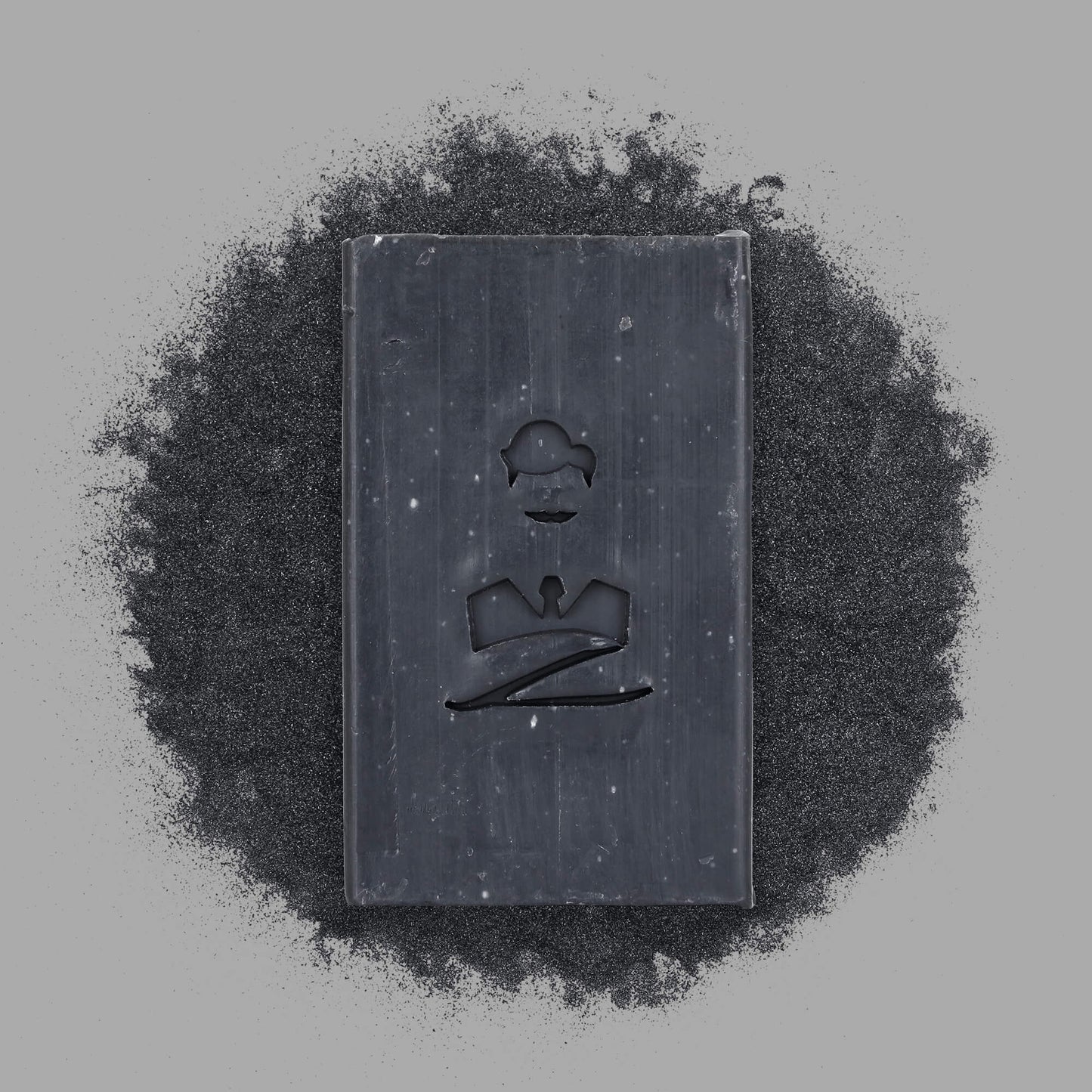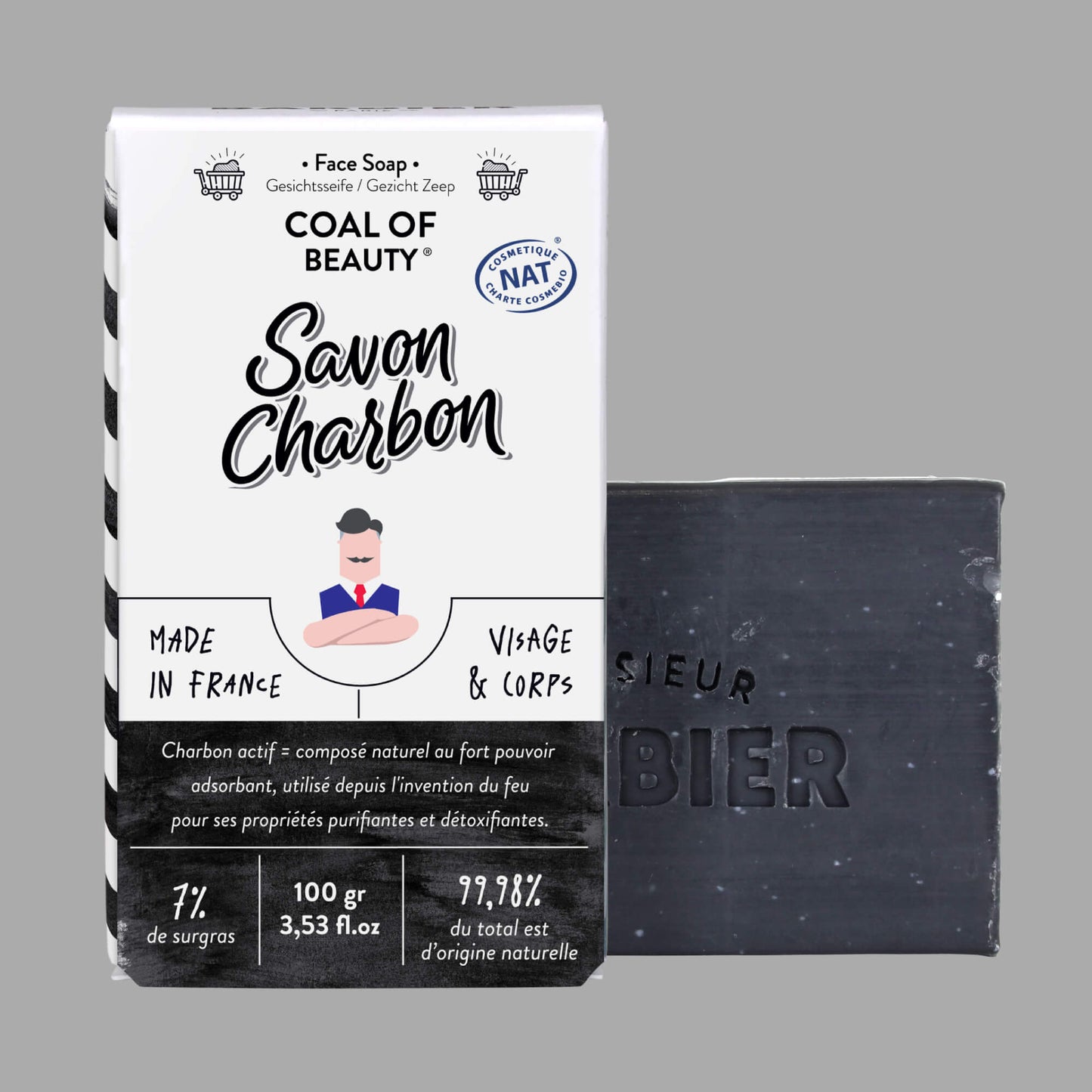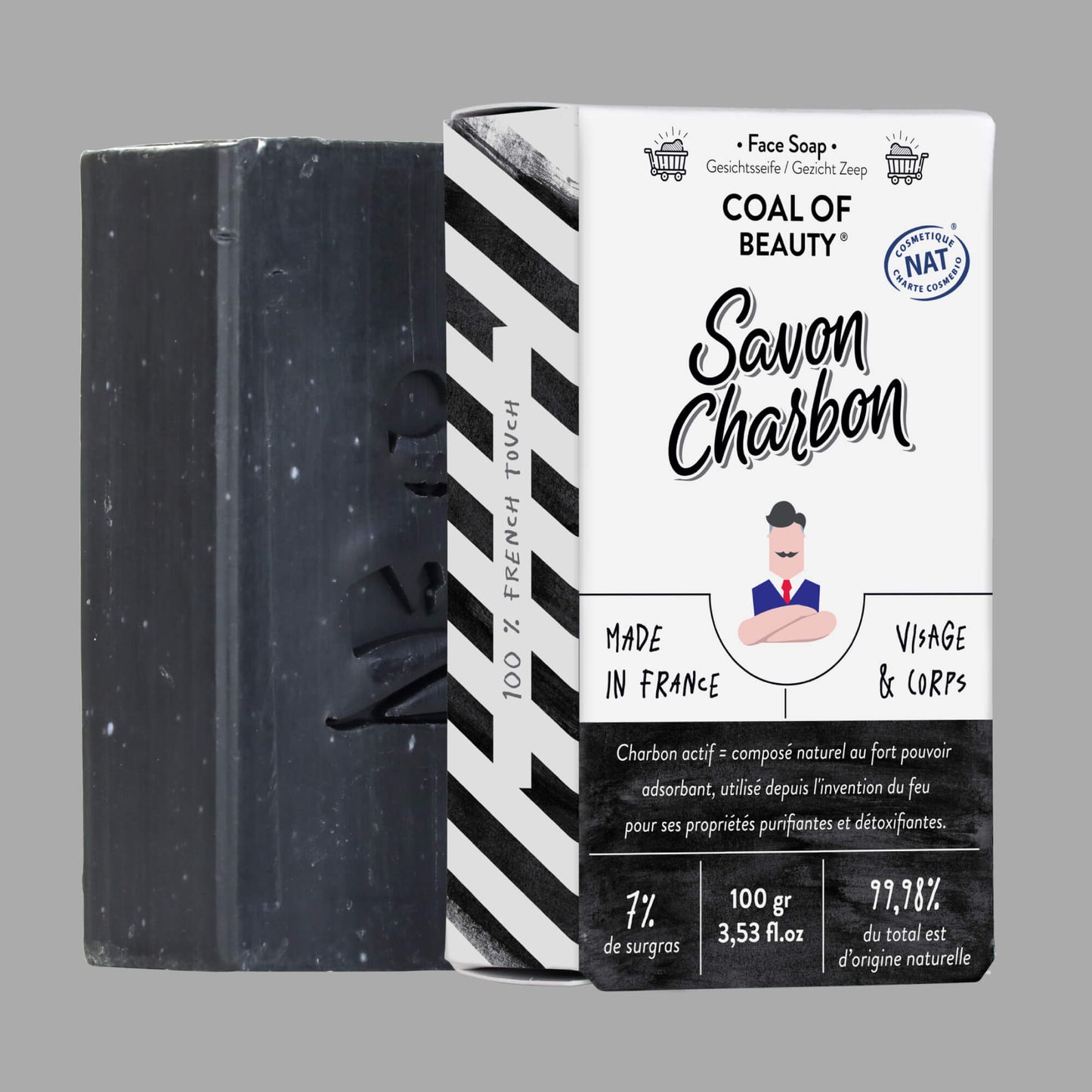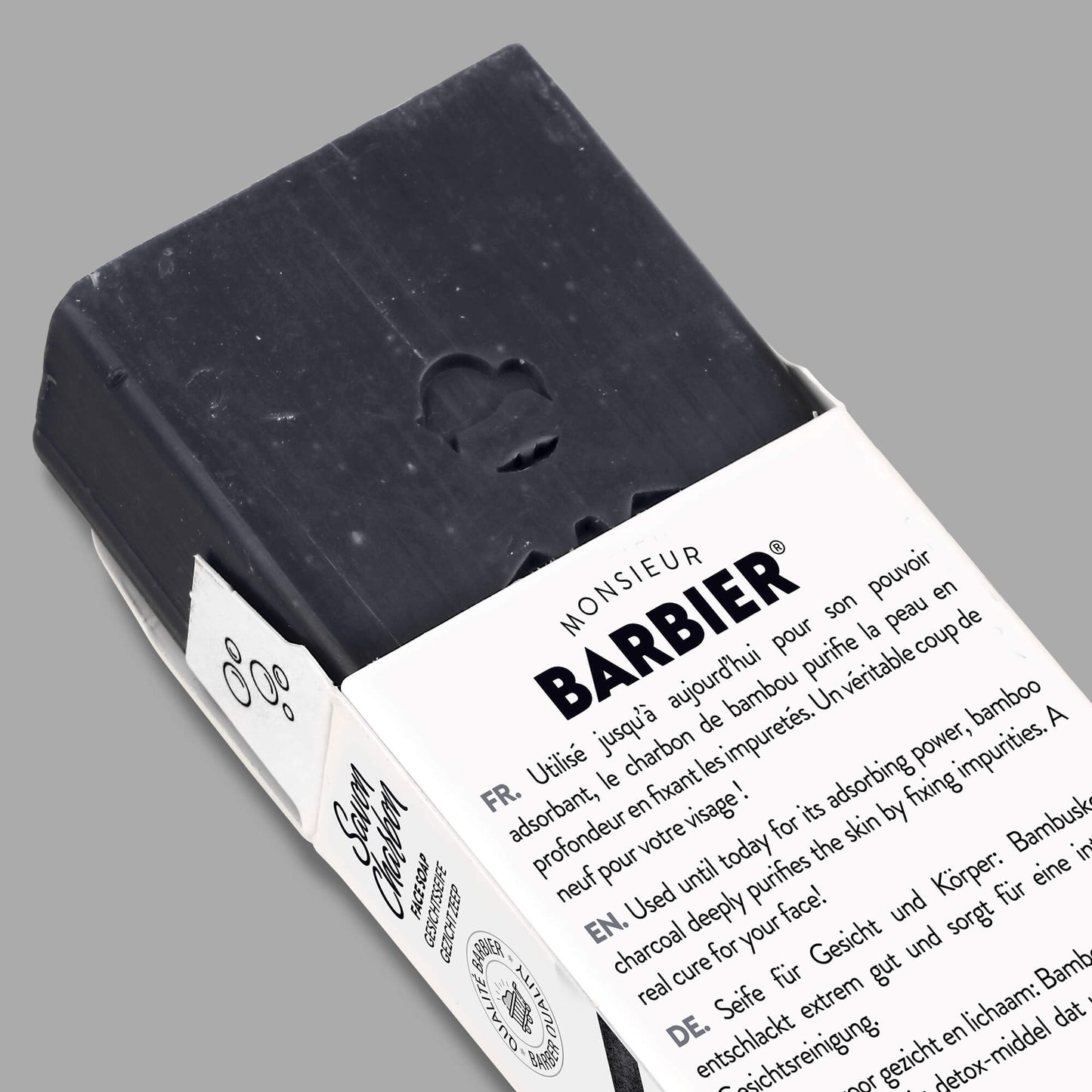 Lipid-enriched face & body soap - COAL OF BEAUTY - 100gr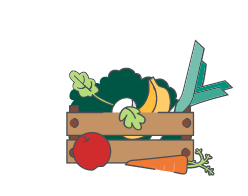 NATUREL & CERTIFIÉ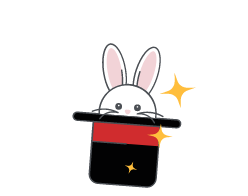 CRUETY-FREE & VEGAN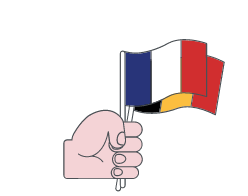 MADE IN FRANCE & BELGIUM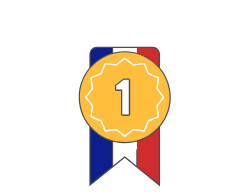 RECONNU & RÉCOMPENSÉ !
"Economical and ecological, lipid-enriched soaps purify your beard and skin day after day without drying them out. Developed to meet the needs of oily skin, the COAL OF BEAUTY soap absorbs pollution particles, impurities, and certain bacteria responsible for skin inflammation, to better eliminate them in the shower. Its coconut and jojoba oils nourish in depth while generating a rich and unctuous foam. Finally, its palmarosa oil naturally perfumes your soap, to combine effectiveness and sensory. An authentic Monsieur BARBIER creation!"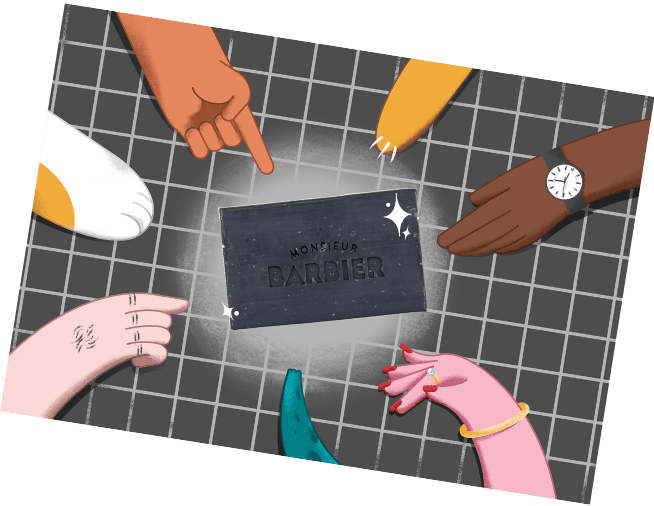 CLEAN FOR ALL
Subtly balanced between the bamboo charcoal's cleansing powers and the natural oils' gentle respect, COAL OF BEAUTY offers all men the power to fight against oily skin, without damaging it!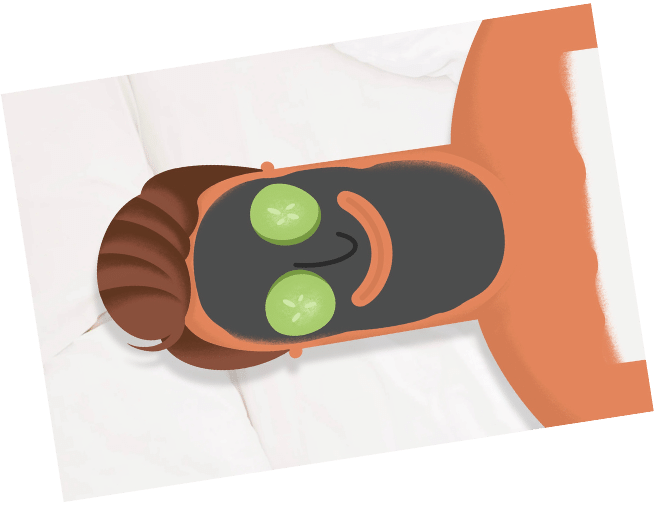 MASKED LIKE NEVER BEFORE
Oily skin will be a distant memory! Thanks to its super absorbent power, the COAL OF BEAUTY soap will become your best ally! It fights against sebum and impurities, for flawless skin. Use it also as a mask to intensely purify your face.
GENIAL
Quelle surprise lors de la première douche : c'est savon est génial et économique. Il nettoyé parfaitement, n'irrite pas la peau et mousse bien.
Il est parfait.
Christophe
Parfait!
Mousse onctueuse et généreuse. Parfait aussi pour nettoyer la barbe.
Extra !
Très bonne onctuosité,bonne glisse,très agréable pour la peau
Très bien
Toujours très satisfait de ce savon